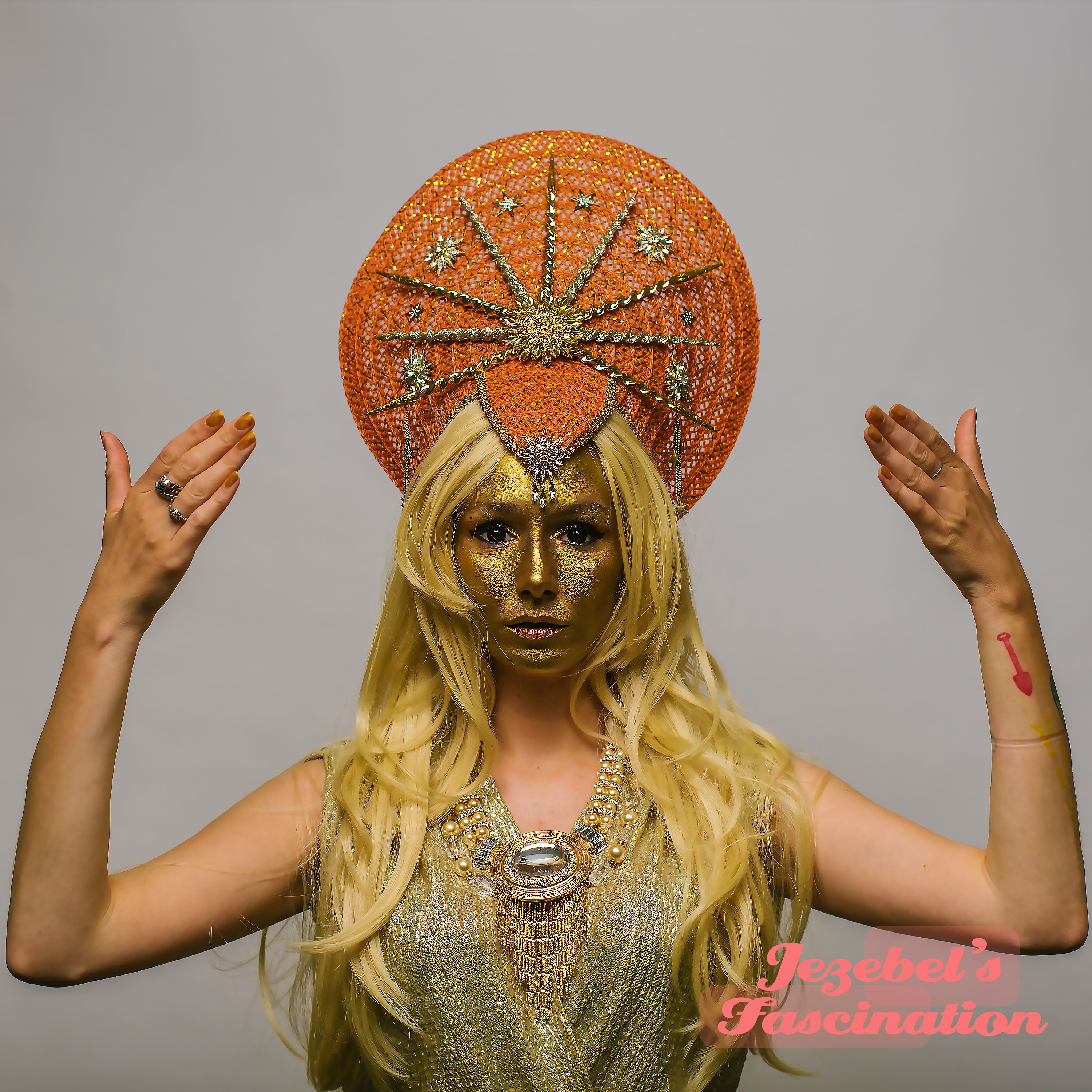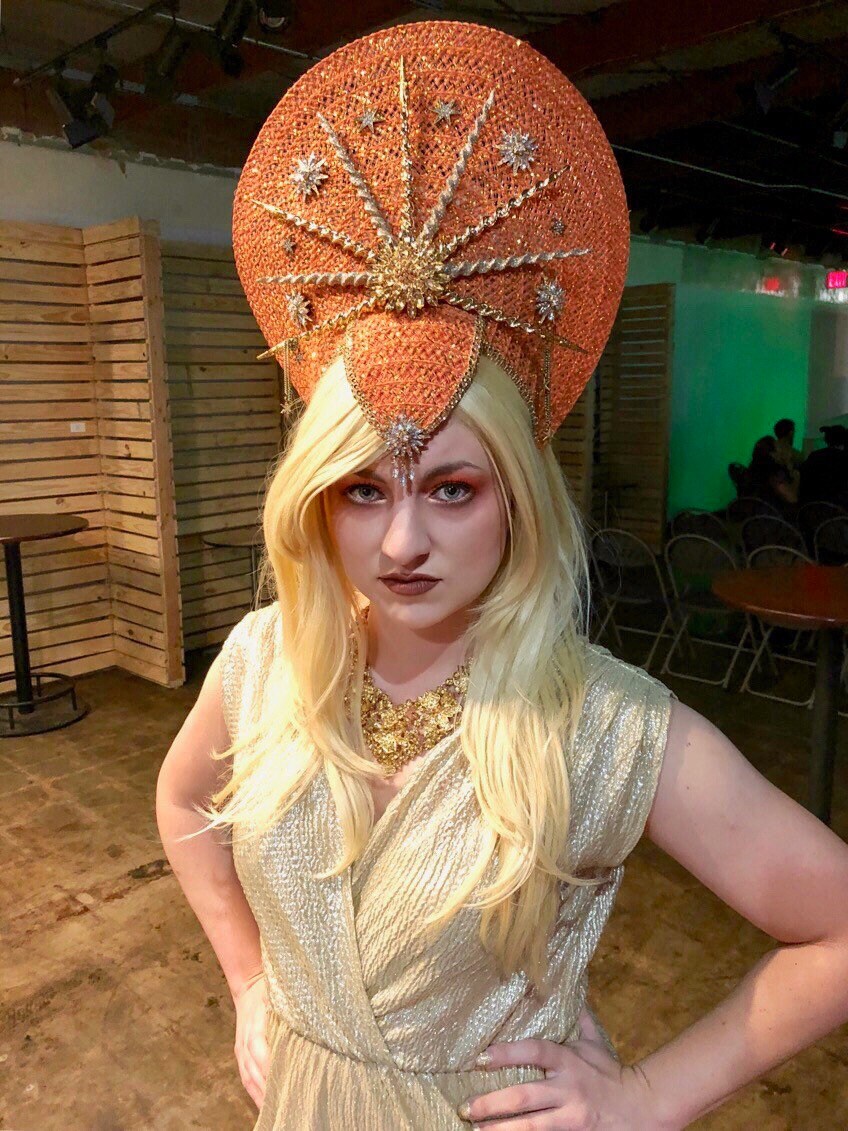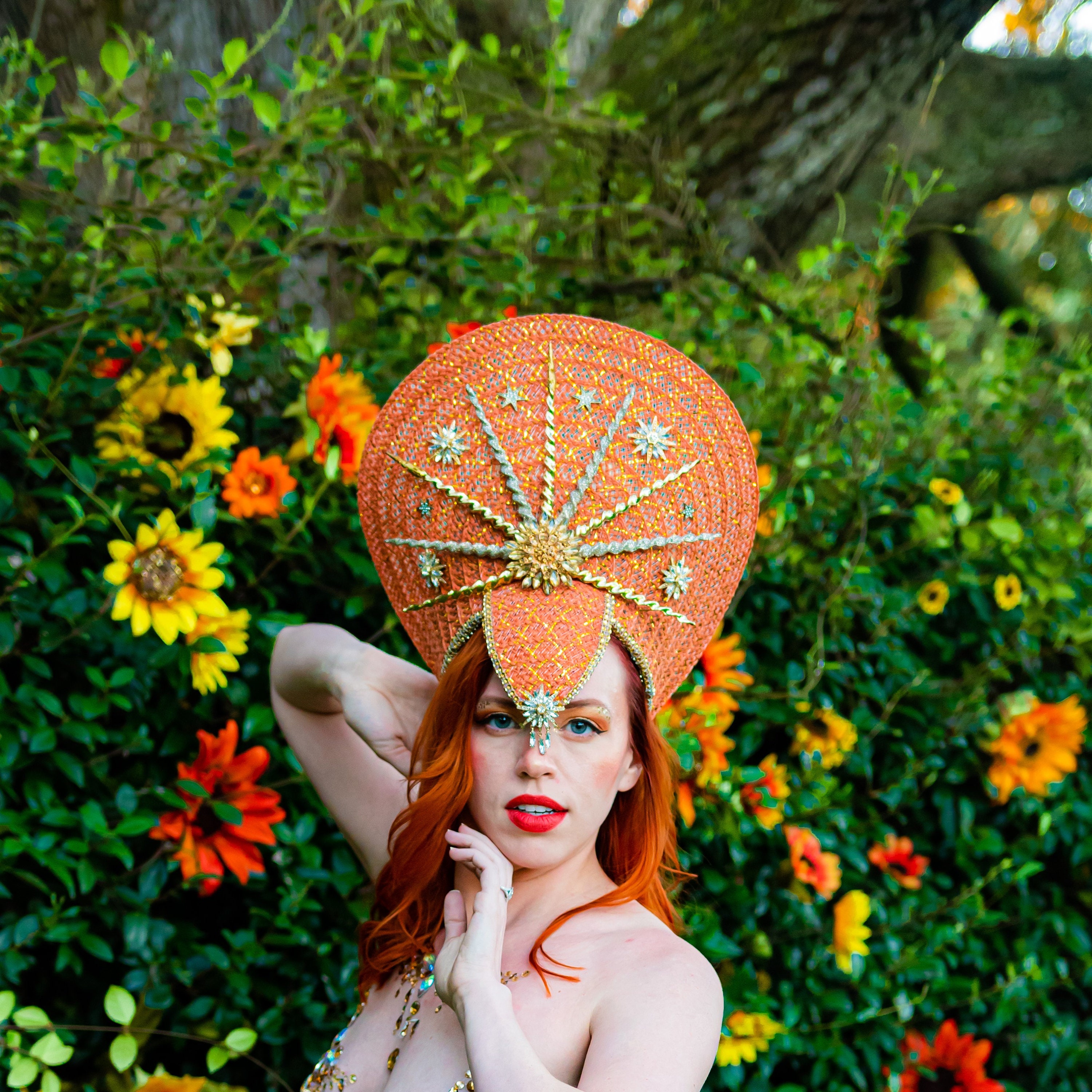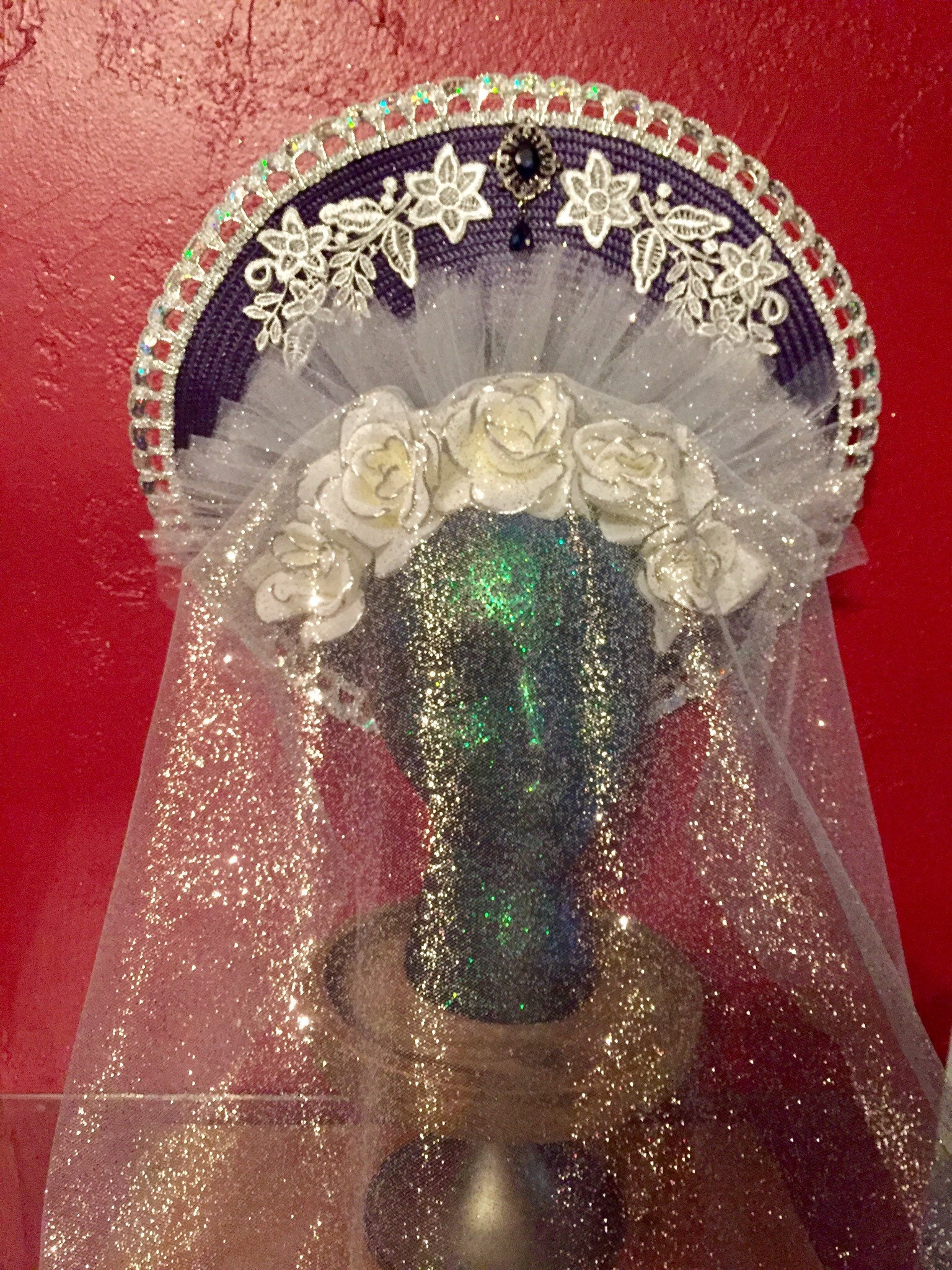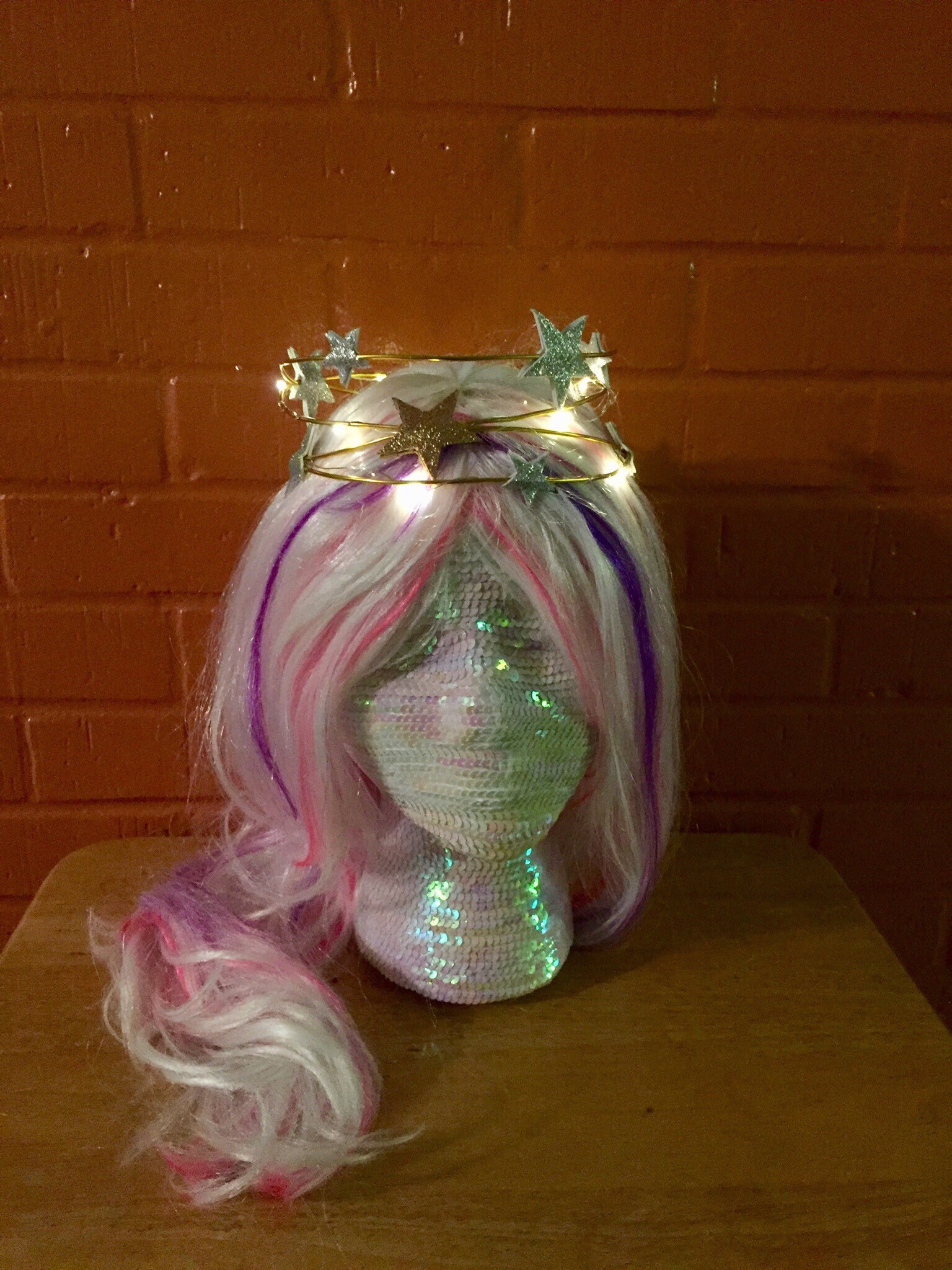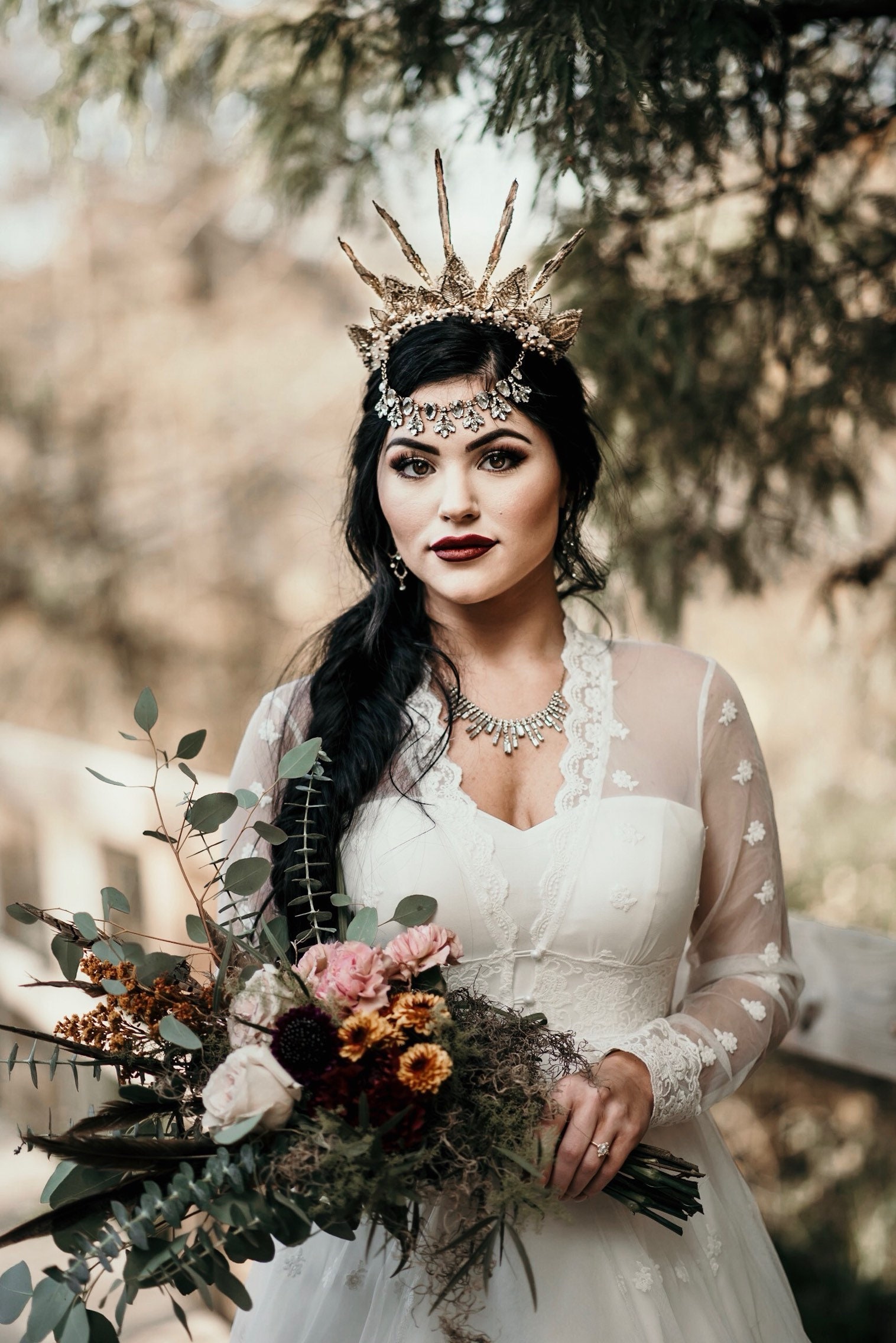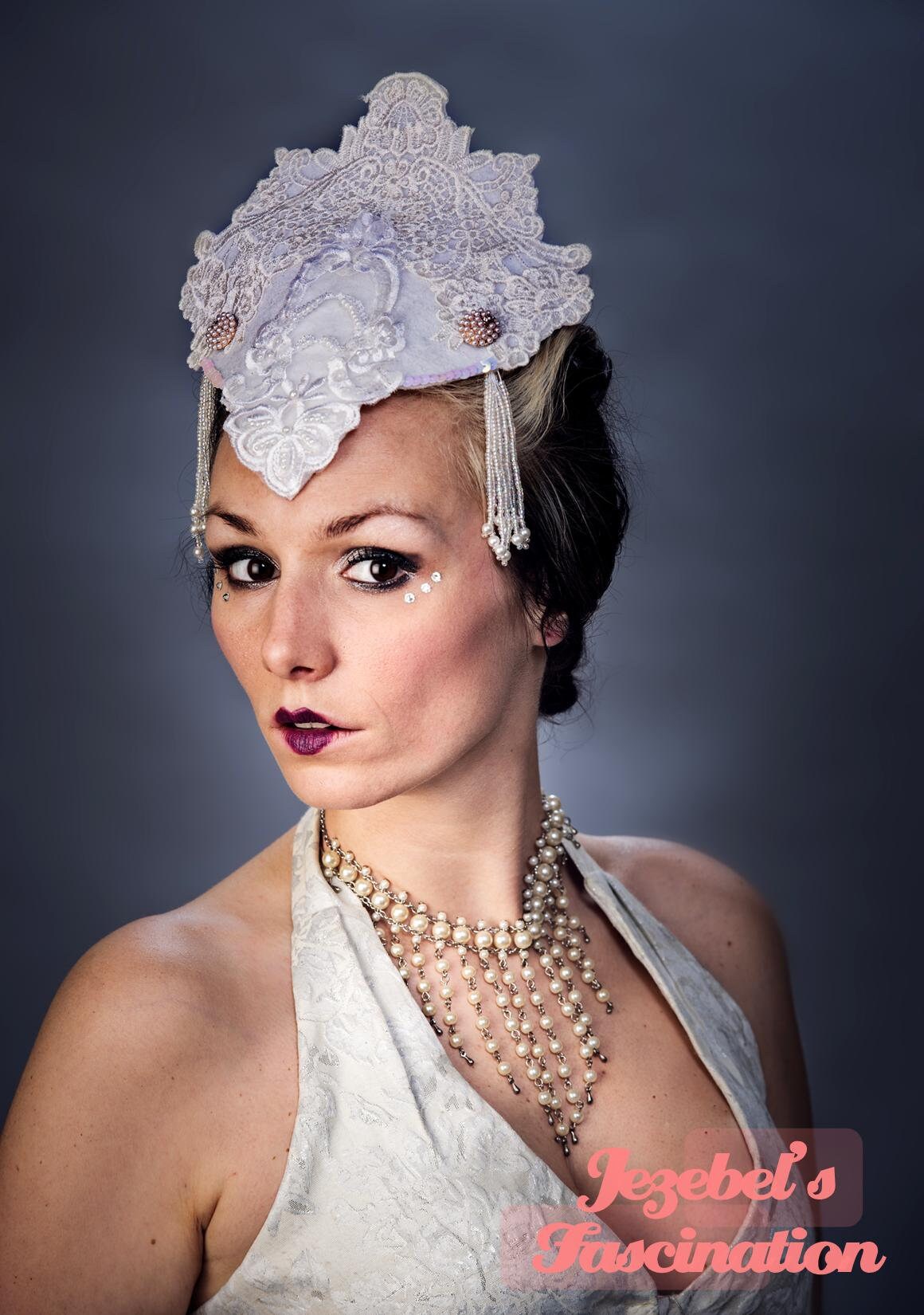 Apollo – Gold sun god orange celestial halo headdress adorned with shining rays of light and twinkling sun and star bursts throughout as well as magical dainty stars dangling from tiny subtle chains on each side. This regally bohemian oversized solar crown will unearth the stellar immortal in you!
Payments
I feel terrible having to make this requirement, but I have had too many people request a rushed order and then cancel after having completed it and putting other important deadlines aside. Therefore, I will require payment before I can start on anything custom made in the future, unless otherwise arranged.
Shipping from United States
Combined shipping available.

Please note I am able to keep shipping costs low, minimal, and only the actual post office charge by not wasting money on shipping materials. Conscious of the environment, I like to take my personal time seeking out and my personal space for storage of gently used boxes and packaging, as reusing is actually better for the environment than recycling. And I do not put the charge of my marketing materials on my customers so everyone wins!
Returns & Exchanges
I don't accept returns, exchanges, or cancellations
But please contact me if you have any problems with your order.
Returns and exchange details
If your headpiece arrives damaged, please take a photo and send it to me ASAP in order to discuss further options. We must come to a conclusion within twenty-four hours of receipt. Returns for broken items will be at my discretion only, as I know the quality of not only the supplies I use to create my headpieces but also the packaging and am fully aware of the way things can and will break. I do apologize this has to be so strict, but a couple of customers have purposely broken items in ways I know they would not break unless by hand.

A 25% cancellation fee will be charged if the piece has been created between the time of ordering and canceling. On that same token, if upon receiving your piece you are simply unhappy for whatever reason, I will gladly accept returns with a 25% restocking fee and it we must come to an agreement on an acceptable date of post mark for the return. I'm sorry this has to be so strict, but recently a couple of customers took advantage of my previous policy after ordering seasonal pieces and/or forcing me to rush on their order when I have others in line before theirs.

Also, and again I apologize, but returns must be shipped in their original box, with original packaging and must arrive in perfect condition. If the item is not returned in its original condition, the buyer is responsible for any loss in value. This also includes any alterations the shopper may make. Tracking must also be included as I cannot be held responsible for items that have no proof of delivery. Also, I cannot be held responsible if items are returned to the incorrect address.

Please note I cannot be held responsible if you furnish an incorrect address.
Additional
Jezebel is in a constant "STATE OF CREATE" and is more than glad to discuss your specific needs should you need something not listed.
Frequently Asked Questions
How fast is shipping?
A. Domestic: I use Priority USPS shipping which takes two days;
about 1% of the time, it takes three. This method only applies to
pieces which fit in box no larger than a cubic foot (i.e.) they pretty
much all the pieces fit ;)
B. International: I use First Class USPS, which rarely comes with
tracking--depending on the country-- and takes an average of
two weeks. I cannot be responsible for how long your
country's customs decides to hold onto your package.
C. Yes, I can ship over night, but this will cost about $35.00 for
domestic and $150.00 for international--and unfortunately there
is no guarantee.
Custom and personalized orders
Yes and I'd love to! Be sure to message me with all the information you have (i.e.) the event you need it for, the date you need it for, perhaps a photo of your ensemble you want to match it to, etc., and be sure to respond to my questions in a timely manner to work together as efficiently as possible. Please understand I cannot spend loads of time with a lot of back and forth messaging, as that is all I would ever be able to do.
Why haven't I heard back from you?
Perhaps you responded to my reply through email, rather than through Etsy.
Do you do bulk orders, and if so, can I get a discount?
Yes, and I'd love to! It will most likely take me about thirty days to fill an order of ten or more of one design—for shopping of supplies. Be sure to message me with as much information as possible (i.e.) the date you need them by and the exact numbers you need, etc. Once this information is confirmed, I can give more accurate discount information ;) Although, ethically, I will not make a copy of another Esty seller's work! I will only bend on this rule if you and/or I get permission from the seller, which may only happen because they are unable to fill your order.
I'm a photographer, can I borrow one of your pieces?
I will be willing to allow you to borrow in this way only:
1. You must purchase the piece from the site and upon receipt of a photo of the return receipt and the item arrives in perfect condition, I will give a refund of the cost of the piece.
2. You must give credit to and link Jezebel's Fascination in any publications and/or social media posts.
3. You must share any and all edited photos with me.
4. We must agree upon a return date before I ship the piece out to you.
Do you rent out your pieces?
Yes, I rent out select headpieces. We must first agree upon a return date. You must then purchase them as is on the site. Upon receipt of a photo of the return shipping receipt and the piece arrives in perfect condition, I will give a 50% refund of the cost of the piece.