---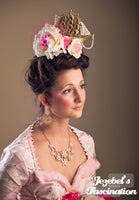 Grand Shipwreck - This adorable ship covered in gold glitter is adorned with pink and cream roses, gems, pearls, and veil netting!  The perfect hair accessory for any masquerade or to finish off your Marie Antoinette costume!

The ship can be done not only in gold glitter, but also in silver, red, green and purple!  Or even painted to suit any color preference!

Also available as shown by the second photo, are some really terrific pirate ships!!!