---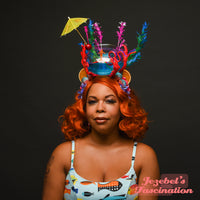 Caribbean Poison - Fishbowl cocktail is resting in a bed of glittered coral accompanied by two kitsch crazy straws, a retro style swizzle stick, a sweet maraschino cherry pierced by an oversized cocktail umbrella and an ACTUAL AUTHENTIC Beachbum Berry tiki cocktail pick! All adorned with other fun items such as a tiny retro mermaid cocktail charm, colorful seashells, orange slices, and lots of multi-colored flora. Can't find a local tiki bar? Problem solved!

The sky is the limit with what can be done with your own fish bowl! Add water colored flowers, water/oil/petroleum jelly—depending on the weight/how much is used—with brightly colored fishing lures, blue or clear gelatin cubes with candy fish to be consumed later, a happy little mermaid, a terrarium items, blue or clear crystals with your favorite aquarium accessories and/or lights/glow sticks, liquid bubbles with a bubble wand, or even a fun bubbly carbonated drink of your choice; the possibilities are endless!

Please note that the fish in this picture was temporarily used short term for the shoot and is from my personal aquarium; I do not suggest nor condone the mistreating of pets/animals.

If you are interested in these beyond amazing mermaids on the rim and even more, definitely check out Hoarder Rehab's Etsy shop; Kennedy is the most fun and exciting shop owner I've had the pleasure of purchasing from!